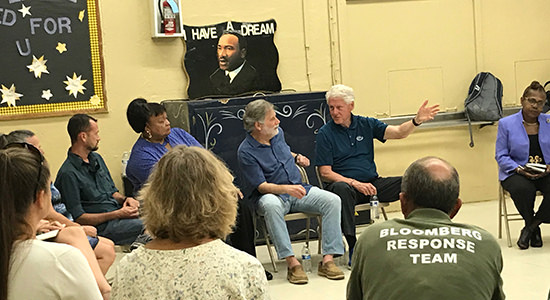 Former President Bill Clinton joins the Bloomberg/Secunda USVI Response Team in St. John yesterday.
---
---
---
---
---
---
100 Years Ago Today in the UK: On February 6, 1918, the Representation of People Act of 1918 passed allowing women to vote for the very first time. It also allowed all men over the age of 21 to vote too. Women Get the Vote for the First Time (BBC)
Tweet of the day:
@MikeBloomberg: A special thanks to @BillClinton for coming to St. John today to meet with community leaders on #USVI long-term recovery efforts with @BloombergDotOrg Recovery Team and @Bloomberg co-founder Tom Secunda.
---
Best of Late Night:
"President Trump and first lady Melania traveled to Cincinnati today. Said Melania, 'Of course they seat me next to a crying baby.'"
— Seth Meyers
"Remember when Donald Trump told us we would be tired of winning? Well, evidently the stock market is exhausted."
— Stephen Colbert
"The stock market is just like the rest of us: It spent January working on improving itself, then in February said, '[expletive] it.'"
— Stephen Colbert